In some regions, especially in the relatively more developed countries, drones or georeferencing systems are often to be seen collecting data on soils, climate or plants. Putting such data into the hands of producers and technology experts facilitates decision-making on the farm and accelerate the levels of productivity.
In rural areas, digital technologies are helping farmers to better understand how crops behave and react to climate variability. Financial and insurance entities are also using these technologies to develop risk scenario models.
Smartphones and computers make it possible to monitor vast areas of farmland, transforming rural producers into agro-entrepreneurs with greater business acumen and a better understanding of the environment in which they operate.
Biotechnologies, on the other hand, permit the genetic improvement of seeds, while precision agriculture lowers the cost of inputs such as pest controllers and fertilizers.
Technologies coexist in a virtuous spiral. Chemistry is used to create, develop and make effective use of fertilizers, pesticides and nutrients, while mechanics facilitate and industrialize work on the farm thanks to the machinery available for planting, gathering and fumigating crops.
In the Americas, the challenge in applying these technologies to agriculture is to translate their use into greater environmental sustainability, new market opportunities, increases in yields, more competitive prices, better inputs and greater well-being for rural dwellers.
Experiential and
learning areas
Surfaces to project
audiovisual content
Design aimed at providing sensory experiences for users
Virtual reality and augmented reality technologies
Various devices to foster interaction
Links and points of access to CIMAG online
CIMAG /

Our goal is to create an innovative and challenging educational experience in which agriculture, with all its colors, textures and manifestations, will be the chief protagonist.
The CIMAG, an interactive space
Covering an area 260 square meters in size, the CIMAG will house exhibits about agriculture and applied technology, combined with devices related to expanded reality and the Internet of Things (IoT).
The technologies on display will include explanations of how virtual reality is used to create climate behavior and crop yield models, and how artificial intelligence will make it possible to interact with chatbots to ascertain the best productive practices.
Touch screens will also allow visitors to learn about farming in the different regions of the hemisphere.
Animations based on open world or sandbox games will permit users of the CIMAG to simulate production units and make decisions about fertilizers, land use and the best crop to plant.
From aerial views of the farms, filmed with drones, we will present, through in flight simulators, videos of the processes of cultivation, harvesting, collection and distribution, as well as waste management.
With a little imagination, and assisted by technology, it will be possible to travel through fields planted with crops and manipulate models that simulate the impact on them of variables such as water, light and fertilizers. There will also be e-books, 3D printers and cartoons related to agriculture.
​
A physical space that combines objects and experiences with digital technology.
Benchmarking /

We aim to make CIMAG a benchmark resource of its kind in the hemisphere, a draw for any number of horizontal cooperation actions designed to foster well-being and a better quality of life for the rural population of the Americas.
Learn about CIMAG /

A center for interaction and learning.
OTROS ESPACIOS / OTHER AREAS
---
Auditorio

Tótems informativos y biblioteca digital

Áreas expositivas con fotografías de gran formato

Mural de la Agricultura de las Américas

Cultivo de Maíz
____________________
Auditorium

Informational totems and digital library

Areas exhibiting large-scale photography

Main lobby ("Agriculture in the Americas" mural)
---
FARMBOT
---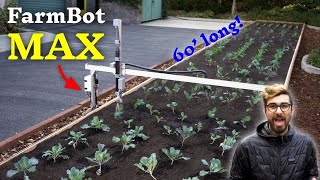 FarmBot Express y Genesis MAX © Farmbot Es una herramienta de agricultura de precisión open source, automatizada y robotizada. En un espacio de 3 por 1.5 metros, un robot ejecuta todas las labores de cultivo. Funciona con paneles solares, es 100% sostenible y amigable con el ambiente. El proceso de cultivo se gestiona mediante una app, la cual también brinda alarmas preventivas e indicadores para la toma de decisiones. Al ser open source, se puede mejorar constantemente y agregarle funciones. ____________________
The Farmbot is an open source, automated and robotized precision farming tool. In a surface area of 3 by 1.5 meters, this robot executes all farming activities. Powered by solar panels, the Farmbot is 100% sustainable and environmentally friendly.
The farming process is managed by means of an app, which also issues preventive notifications and indicators to facilitate decision making.
Because it is an open source software, the tool can be continuously improved and additional functions can be added.
---
BAYER - REALIDAD VIRTUAL / VR EXPERIENCE
---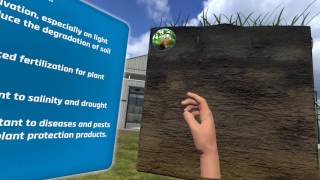 VR farming © Bayer
En conjunto con Bayer, se dispondrá de equipos de realidad virtual para vivir la experiencia de vuelo de una abeja, especie de vital importancia para el ambiente. También se podrán experimentar, en una finca modelo de esta trasnacional, las mejores prácticas agrícolas aplicadas en tiempo real.
____________________
Virtual reality equipment developed together with

Bayer

will provide a simulation of a bee's flight, to raise awareness of this specie's vital importance to the environment. The equipment will also provide a simulation, in real time, of the implementation of good agricultural practices on one of the transnational company's experimental farms.
---
SIMULADOR DE DRONES / DRONE SIMULATOR
---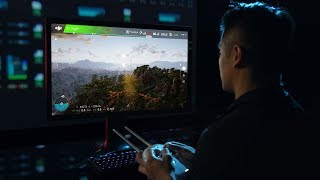 Introducing flight simulator © DJI
Existen equipos para que los visitantes tengan la experiencia de volar un dron en tiempo real, con simulación de vuelos a través de los campos, desarrollo de patrones de vuelo, toma de fotografías y videos.
____________________
Visitors will be able to experience, in real time, what it is like to fly a drone over fields, as part of a simulation that will also demonstrate the development of flight patterns and the use of drones to take photos and videos.
---
---